October 27, 2023
10 Benefits to Set You Apart from Competition
Though Open Enrollment season is here for many organizations, there's still time to evaluate the benefits offered by your company. Employees are always on the lookout for perks and benefits that could improve their work-life balance and overall well-being. Nowadays, standard medical plans, dental, vision, disability, life, retirement benefits are no longer enough to attract exceptional talent. It's time to reconsider and explore additional benefits that can provide an edge to your organization. Work Friendly has helped multiple clients rethink and revamp their benefits package - here's our top ten ideas to improve your employee retention rates and set your company apart from the competition.
Caregiver Support
Family is essential, and providing support to employees who care for dependents can significantly boost their morale. Offering paid leave, flexible working hours, and additional resources can help employees who juggle work and caregiving roles. Caregiver support also looks different per family unit:
New Parent:

Generous time off / leave policy that exceeds (and aligns with FMLA requirements) so new parents feel secure and relaxed while out caring for the new needs of their growing families.
Provide celebratory gifts for new addition(s)

Childcare

Offering discounts or onsite child-care resources can help ease the financial burden on working parents in their search for safe and enriching child care facilities
If the real estate is available, onsite childcare can greatly reduce the stress of working parents as they will be able to bring their child(ren) to work and won't have to travel far in case their prompt attention is needed

Elder

Many working adults care for their aging or ailing parents.  This can be taxing and distracting.  Eldercare discounts and resources go a long way in alleviating the financial, emotional, and mental burden of employees.
EAP
Employee Assistance Programs offer confidential counseling and emotional support for employees and their families. These programs can help employees cope with personal issues and improve their overall mental health.
Fertility Assistance
Supporting employees' family planning goals can create a sense of belonging and support in the workplace. Offering fertility assistance, such as in vitro fertilization (IVF) or egg freezing, can provide financial and emotional support to employees' family planning.
Milestone Celebrations
Celebrating employee milestones such as work anniversaries or birthdays can create a positive work environment. Small gestures like personalized notes, flowers or gift cards can show appreciation and make employees feel valued.
Celebrations can be self care (free day off), events (team lunch), a gift (gift card to favorite business), or leverage companies that specialize in creative ways to celebrate employees.
Money Management and Financial Planning Services
Employees' financial health can impact their stress levels and overall job satisfaction. Offering financial planning services or access to financial wellness resources like webinars or seminars can help employees manage their finances better.
Perk Program
Offering a corporate perk program can significantly enhance employee lifestyles and well-being. Offering perks like gym memberships, fitness classes, and discounts, or complimentary services can boost employee morale and productivity.
Personal Enrichment
Employees who perform well in their jobs often crave learning opportunities that enable them to acquire new skills. Offering courses and development programs or opportunities to attend conferences and seminars to aid personal growth is an excellent way to attract and retain talent.
Support your employees with financial support for apps and programs like BetterUp, Noom, Duolingo, Howcast, to name a few.
Pet Insurance
For employees who have pets, pet insurance can provide financial support. Some organizations encourage pet-friendly workplaces by creating an on-site pet care facility, freeing employees from worrying about their pets while they're at work.
Onsite Benefits
Convenient on-site facilities like a health clinic, daycare, or gym can help employees manage their work-life balance and improve their productivity while at work.
Help protect choice, privacy, (and compliance) by ensuring there are comfortable lactation spaces available for lactating parents.
Free snacks - who doesn't love them! Even if you can't accommodate an onsite cafe, some free available snack and beverage options to fuel your team can be beneficial. Perhaps, buying lunch for the team on a regular cadence can incentivize your onsite workers.
Offset fuel costs for those required to commute to work. Covering commuting costs will not only help get workers back to the office, it may also be an incentive to help them stay around during a tight labor market.
Remote Work
Remote work has become the norm. However, even before that, allowing employees to work from home can significantly improve work-life balance, reduce commuting time and costs, and result in higher productivity levels. Other remote work ideas we love:
Coworking stipend to combat loneliness and promote collaboration
Cyber security and identity theft insurance is crucial to protect organizations and individuals as more employee work from home at some regular cadence, if not full time
Discounted internet plans for productivity. It's difficult to work from home if you don't have a reliable Wi-Fi connection. Offer discounted internet plans or upgrade their existing plan for them.
House cleaning services to ensure good working conditions. Additionally, who has time to squeeze deep cleaning in with so many other responsibilities in life.
Offering additional benefits to employees can significantly improve employee retention rates and create a positive work environment. The traditional medical, dental, vision, disability, life, and retirement benefits still matter, but employers who go the extra mile stand apart from the competition. Whether it's offering caregiver support, financial planning services, Perk Programs, or remote work, your employees' well-being should always be a top priority. Take the time to evaluate and offer additional benefits and see your employee retention and overall job satisfaction improve.
Author Paige Vazquez, is a People Expert at Work Friendly. With a passion for helping organizations achieve healthy and sustainable workplace cultures, Paige has dedicated her career to creating and implementing attainable and positive people practices.
0 comments
Latest post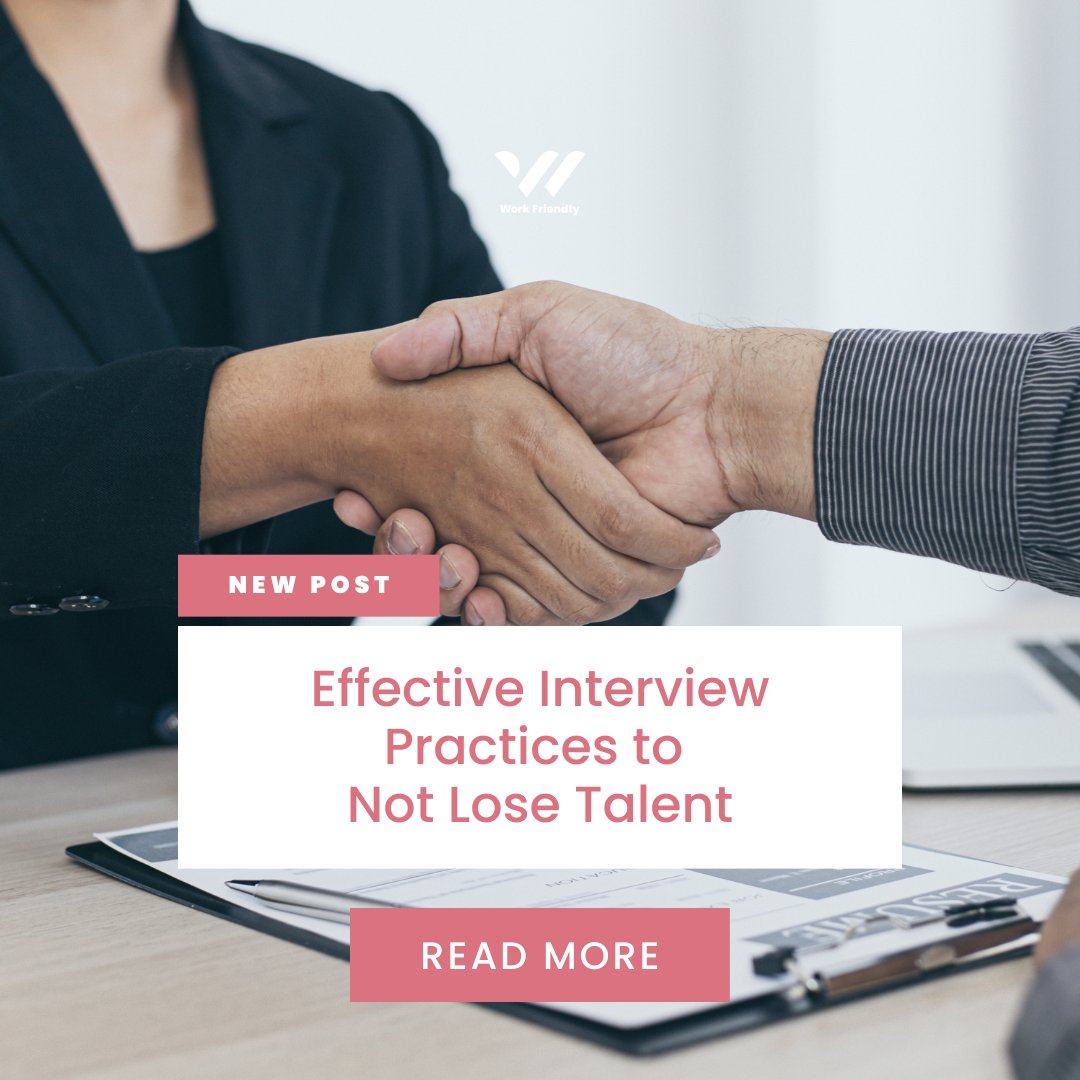 2023-10-09 13:40:41
Effective Interview Practices to Not Lose Talent
The hiring process can be a long and arduous one, but it is essential to any business looking to grow and succeed – especially start-ups. However, taking too long to move through interviews can lead to losing top talent to competitors. At Work Friendly, we've seen this problem plague clients firsthand but with coaching and […]
0 comments